UTMSHINE 2019 – DR. HASRINAH & DR. NORHANIZA
JOHOR BAHRU, 22 SEPTEMBER 2019 – Congratulations to Dr. Hasrinah Hasbullah and Dr. Norhaiza Yusof for being selected as the UTMSHINE 2019 (5th Batch) recipient!
UTMShine (Strategy for Harnessing and Inspiring Top Notch Scientist and Researchers) Initiative is one of the strategies initiated by the Office of Deputy Vice-Chancellor (Research & Innovation) to encourage young researchers in UTM in pursuing high impact research and producing high-quality research output. The award will be in the form of a research grant in a certain amount depending on the existing budget, given to a group of selected young researchers (less than 40 years old). Apart from the output expected from the research grant award, recipients are expected to involve in any other form of activities deemed fit by the UTMShine selection committee. UTMShine recipients also will be groomed in specific leadership programs. To date, some were already appointed as district liaison officers for Johor Strategic Innovation Institute to coordinate projects, issues and requirements between the local authority and the local solution providers under the institute.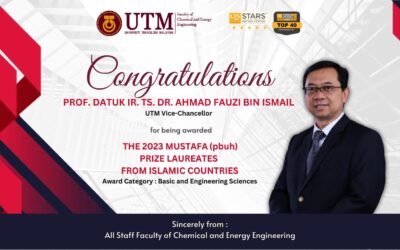 Setinggi-tinggi tahniah diucapkan kepada NAIB CANSELOR UTM – PROF. DATUK. IR. TS. DR. AHMAD FAUZI...